Staff at the Centre for e-Research
Dr Mark Hedges (Project Director, mark.hedges@kcl.ac.uk) is Deputy Director of CeRch, and will be responsible for the overall direction of the project.
Dr Tobias Blanke (Project Manager, tobias.blanke@kcl.ac.uk) is Research Fellow at CeRch, and will be responsible for project management.
Staff at the University of Edinburgh (EPCC):
Dr Robert Baxter is Software Development Group Manager at EPCC and oversees a broad range of novel technology projects in distributed computing and data management. Rob is development manager of the Software Sustainability Institute and also leads the ADMIRE project, which is building advanced data mining tools.
Dr Mike Jackson, Mike is a Software Architect at EPCC and tracks EPCC's SPQR activities. Mike has a background in data access and integration as a developer and technical lead on the OGSA-DAI project, a framework for distributed data management. Mike has previously worked with the Centre for e-Research on the JISC funded LaQuAT project, which looked at the use of OGSA-DAI in integrating humanities data.
Dr David Scott. David is a Developer/Analyst at EPCC and undertakes full life-cycle software development. David has worked on SPQR from 01/2011-present
Dr Bartosz Dobrzelecki, Bartosz was a Developer/Analyst at EPCC where he worked on HPC and distributed data management projects (including distributed query processing for OGSA-DAI). Bartosz worked on SPQR from 08/2010-01/2011
Staff at Humboldt University Berlin (HUB):
Stefan Gradmann is Professor of Library and Information Science at Humboldt-University in Berlin with a focus on knowledge management and semantics based operations. He is also a leader of Europeana's technical work package on functionality and interoperability.
Steffen Hennecke is a PhD student at the Berlin School of Information Science. He is also working on the Europeana ontology framework.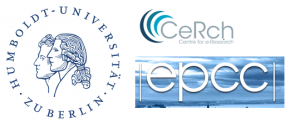 Edinburgh Parallel Computing Centre (EPCC)
Humboldt University Berlin
King's College London, Centre for e-Research
Related projects
SPQR is a data provider for PELAGIOS – Pelagios: Enable Linked Ancient Geodata In Open Systems (see also their Google Group).